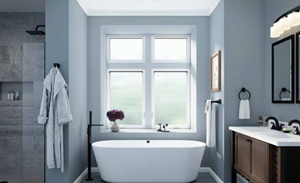 Glass Pro offers outstanding replacement windows and doors in Clovis, CA. We are proud to be a window and door expert in Clovis, CA. We have worked with many homeowners that are looking for replacement windows and doors to improve the style of their home or replace aging ones. Our experts will guide you on choosing and installing the best replacement windows and doors for your lovely home. Call us at (559) 712-8100 to get a free estimate. You can also visit our showroom at 546 Spruce Ave Clovis , CA 93611 United States.
Is it time to replace your windows and doors? There are some great benefits to making the investment to upgrade your home or commercial property in this way. Increase the comfort of your space with improved energy efficiency to keep inside temperatures more stable year-round. With effortless function and aesthetic appeal, you will love your replacement windows and doors in Clovis, CA.
Having the latest technology and updated solutions also offers increased security protection for your residence or business. Peace of mind is worth having! Give yourself all of the protection possible, and don't allow yourself to be an easy target. These extra measures can make you safer not only from intruders but also from severe weather.
Decrease exposure to outdoor allergens and dust pollutants by having superior products that are installed correctly. Many people find that this investment will positively impact curb appeal and property values with these updates as well.
Why Custom Windows and Doors?
As you shop around to find the best team to work with for your replacement windows and doors in Clovis, CA, you will want to find a place that offers customizable selections. This opens up your options as a consumer. It makes it possible for you to choose the most critical features, details, and even custom colors.
It is fantastic to have choices! If you feel overwhelmed by the options, find inspiration pictures. Your local team at Glass Pro has many style guides you can look through. Keep a lookout on Instagram or Pinterest platforms to learn about your own preferences. Bring in those screenshots, and we can help you find just what you are seeking.
High-Quality Brands for Replacement Windows and Doors in Clovis, CA
Unfortunately, there are many knock-off products on the market. It is imperative that you know what you are getting. You deserve to have high-quality products and installations that will perform well for years to come. At Glass Pro, we specialize in a handful of tried and true brands that have impressive warranties and customer service support. You want to work with companies that stand behind their products.
Glass Pro is proud to be a specialized dealer for Anlin, Milgard, and Jeld-wen windows. We have access to other options as well. There are different components and choices with these windows to serve a range of price points and create beautiful, functional results. We can also service your glass replacement needs within windows and doors.
Shall we talk about your doors? They're one of the first things seen. These impressions people get when they come to your home or business building may continue to color all of your interactions together. So much can be expressed with a door. There is something here for everyone, from warm and charming to stately elegance to modern and sleek profiles! As with our windows, Glass Pro is thrilled to offer reputable brands like Anlin, Milgard, Jeld-wen, and Therma-Tru for door selections.
Trusted Installation Process
Sometimes we have clients who want to purchase products with us and do the installation themselves. This is not a great way to save money with all due respect, and we never recommend it. Correctly hanging doors and windows is a process that takes a fair amount of training and finesse to have professional results. And here's the thing: professional results equals optimal energy efficiency and proper function of the products. So, in this case, save money by not saving money. Get the job completed the right way, the first time.
The experts at Glass Pro never subcontract out our installations. This is a massive benefit to you as a consumer. Our replacement glass, windows, and doors are handled in-house by certified and carefully trained employees. Firstly, this means we have the expertise to know precisely how to manage and install your delicate products for top-of-the-line results. Secondly, when the rare occurrence surfaces that warranty work is needed, your warranty will be intact because of the certified installation.
You will also enjoy additional cost savings on your products because, with no third-party contractors, we pass those savings on to you. Another important reason to work with a professional company for installation is that you want to work with someone who is bonded and insured. This coverage protects your family and property in the unlikely event that there are unforeseen problems or accidents on the job.
Schedule a No-Obligation Consultation Today
If you are ready to take the next step on getting your replacement windows and doors in Clovis, CA, we invite you to call us at Glass Pro. Our showroom is located at 546 Spruce Ave, Clovis, CA 93611, and you can call or stop by to secure an appointment. Dial (559) 712-8100 to be connected to our knowledgeable and friendly staff.
Replacement Windows & Doors FAQs
What characteristics distinguish an excellent replacement window?
Vinyl replacement windows are notoriously durable in terms of the materials and manufacturing. But, what about their energy efficiency? Well, vinyl has a fairly low rating for most types at around .30 – but that's not all! The best window replacements can be up to 10 times better than this with ratings as low as .02 per double-hung window (ENERGY STAR®).
What is a good replacement window brand?
The best replacement windows are often high-quality, durable products. I installed my new home's Andersen Windows on the inside and outside of both bedrooms and kitchen. The installation was quick, easy for a do-it-yourself homeowner like me to complete with little instruction needed from professionals!
Is it worthwhile to spend the money on new windows?
A study from Remodeling Magazine found that homeowners who invest in new windows will recoup about 81% of the total cost when they sell their home. This is based on standard energy-efficient windows, which are highly recommended for any homeowner wanting to save money and keep a comfortable living space.