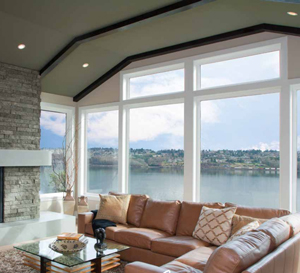 Glass Pro offers superb replacement windows and doors in Shaver Lake, CA. If you are looking to update your home, the most important thing you can do is replace the windows and doors. This will provide you with a comfortable living space that is stylish and energy-efficient. Luckily we are replacement windows and doors experts that worked for many homeowners with awesome feedback. Call us at (559) 712-8100 to get a free estimate. You can also visit our showroom at 546 Spruce Ave Clovis , CA 93611 United States.
Do those old or inefficient windows have you battling poor indoor air quality, layers of dust, and high-cost utility bills? If so, it might be a good time to look into replacement windows and doors in Shaver Lake, CA. Elevate your space with the look and function of high-performance products from Glass Pro.
There are many perks to getting those new windows and doors installed as soon as possible. Replacing old or inferior products will bring greater comfort with more stable indoor temperatures and improved air quality. Give yourself and your family an increase in protection from extreme weather and theft prevention. Open a window with ease to circulate airflow through a stale room.
You can also realize improved property values when windows and doors are updated. This investment makes sense because you will enjoy savings with your utility costs right away. When it comes time for reselling the property, newer windows and doors can be an added selling point as well.
Custom Windows, Custom Doors
A great benefit to working with the design experts at Glass Pro is customizability. When you are looking at spending the money to update an entire house or building, you deserve more than the average DIY windows and doors. Customization allows you to select the features that are important to you. Order the products in the perfect color and ensure that every detail is right for its destined installment in your space.
Perhaps all of the options feel a bit overwhelming? That is okay! Your design team at Glass Pro is prepared to help you find your style and pick the perfect solutions for your replacement windows and doors in Shaver Lake, CA. With platforms like Pinterest and Instagram, you can also curate your own list of images that speak to you. When you share these with our staff, they can help you create a similar look with high-performing products that will stand the test of time.
Top Brands for Replacement Windows and Doors in Shaver Lake, CA
When it comes to windows and doors, working with trusted brands matters. The materials used to build quality merchandise are not all created equal. You will want to have products that are manufactured with performance in mind. Look for brands that add value with long-lasting warranties and guarantees. This means they truly believe in and stand behind their products.
Glass Pro is pleased to be a certified dealer for high-performing windows from Anlin, Milgard, and Jeld-wen. These have products and features to serve a range of price points and needs. We can also help with unique shapes, sizes, and glass replacement for both windows and doors.
Doors are a fantastic way to send a message about your commercial building or residence. You can convey so much without ever saying a word. There are choices from traditional to modern styles with a wide assortment of materials and finishes to select from. All of the brands that we work with at Glass Pro including, Anlin, Milgard, Jeld-wen, and Therma-Tru have quality workmanship and warranties to protect your investment.
Don't Skip Professional Installation
Hard-working consumers like you want to get a great deal! We want to give that to you as well! Glass Pro helps our customers save money when it comes to installation by using our own in-house installation team. With no third-party contractors to pay, we pass those savings on to you. Your dollars are spent on high-quality products with certified installers that will keep your warranties intact.
Hanging windows and doors can be a delicate and detailed process. The energy efficiency that our windows boast will not work correctly if installation is botched. None of us want that. Leave the installation of your performance windows and doors to the certified and carefully trained professionals at Glass Pro.
Hiring professionals to do this job ultimately saves time and money since the optimal function of the products will be protected and perform as designed. Bonded and insured installation teams further protect homeowners by having that layer in place if an unlikely incident were to occur. This peace of mind is worth a lot.
Learn More Today
Scheduling a consultation with us will help you learn more about our industry and what is available on the market today. We are pleased to take the time to discuss all of your questions regarding replacement windows and doors in Shaver Lake, CA. Our team can help you get clarity about the timing and prudence of repairs vs. replacement needs.
Often, we find that repairs cost more for our clients in the long run when replacements are actually what is needed. We invite you to give us a call at Glass Pro. Dial (559) 712-8100 or stop by 546 Spruce Ave, Clovis, CA 93611 to get this process started today.
Replacement Windows & Doors FAQs
Is it better to install replacement windows from the inside or outside?
In many cases, windows can be installed at least partially from the outside. But every home is unique so there may be some features of your home's window openings that require all or part of the replacement window installation process to occur inside.
How much does replacing windows add to the value of a house?
With the cost of living on the rise, many people are looking for ways to save money. Windows is a common solution because it's an easy and affordable way to improve energy efficiency in your home without having any adverse effects visually. If you're considering selling your house soon, look into new windows as they'll bump up asking price by $8500 with 85% ROI
Do you take measurements of the door or the frame?
The measurements for the doorframe depend on what you're looking to do with it. A standard width is 3 inches, but if you want a thicker frame then measure accordingly and add 1 inch per every 2 inches of thickness. The height should be measured from floor-to-jamb so that there's room left over at each end when installing your new door later!