With the huge options available in styles, design and cost, many homeowners often feel overwhelmed when it comes to choosing the perfect windows for their needs. 
If your windows need replacing and you failed to do so, or you decide to patch things up through DIY or untested professionals, you may be doing more harm than good. 
According to a report, windows without energy efficiency capabilities are one reason your energy bill is going up months after months.
Interestingly, getting good replacement windows may not be that hard after all.
For over 30 years, Glass Pro Clovis has been providing quality windows replacement services for the people of Central Valley. We have few tips that can help.
This post takes you through the options you have when it comes down to getting new windows.
What to consider
Choosing new replacement windows will depend on certain factors.
Budget. 
Replacement can cost from a few hundred to thousands in cash. The good thing is, any money spent on replacing windows pushes up the home's market value. 
Styles.
You want your home to look like something from the Home magazine? Windows styles can give your house that elegant look you've always craved for. But know that some windows types may involve modifying other structures in the home. 
Energy efficiency. 
Some elegant window types are not energy efficient. You have to decide if you are ready to sacrifice style for energy efficiency.
These 3 considerations will do for now. Let's get down to the different options available to you, and their advantages/disadvantages. For cost estimates and other inquiries, you may have, schedule a virtual consultation with us through this link.
1. Single-Hung Windows
When it comes to cost, single hung windows are probably the best value for money. Even if you don't use them, you must have come across this window type numerous times. Single-hung windows consist of two panels and derive their names from the way they open and close. The bottom panel vertically moves up to open and moves down to close. The upper panel is stationary.
Advantages
Single-hung windows score top on energy efficiency. With only one panel opening and the other fixed, there is less chance of heat loss through the windows. And due to newer technologies, single-hung replacement windows now come with better insulation and energy-efficient materials.

Single-hung windows are some of the best options for space-saving in the home since they only open up or down. Unlike outward or inward opening windows, they don't take up any room space.

A simple single hung replacement window goes for less than $200. But keep in mind that single hung windows can have different shapes, trimmings and finishings. So your total cost will depend on the material used and the type you chose.

Single-hung windows are easy to secure. This also is attributed to the single sash movement. Thumbscrew sash locks work well here. These can be bought for a few cents in the local store. And if you want to go for added security, these windows can also be secured with

expandable window spring tension rods

. Though most single hung windows come with only one lock, the probability of you forgetting to lock up after closing them is reduced compared to other window types. 
2. Double-Hung Windows
These are the expensive version of single hung windows. 
In this style, both top and bottom panels move. You can decide to open the top sash or the bottom one. Or even both so that air can come in from up and down the window. This is one reason they're superior to single hung windows. The two sashes can be tilted out for easy cleaning. This is another reason many homeowners prefer them to single hung windows. Double-hung windows are very popular in the US. They are the first choice where opening windows outward can cause issues i.e. hit someone.
Advantages
Double-hung windows are maintenance-friendly since the sashes can be tilted out for easy cleaning.

They allow additional window installations like an air conditioner, insect screen, or storm windows.

They are versatile in that they can easily be adapted to suit any home style.
Disadvantages
They need extra hardware to secure properly since unlike single hung windows, the two panels need to be secured.

If you have double-hung windows that are older than 10 years, consider changing them. These old windows may not be as airtight as the new ones.
3. Casement Windows
Another commonly-used window type is the casement windows. Though it is more common in Europe than the US where double-hung windows reign supreme.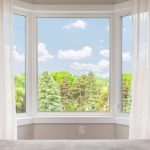 A casement window opens outward or in some cases, inwardly.
One main feature of casement windows is that they offer a wider view. There are situations where it's impossible to use single or double-hung windows. Casement windows are perfect for those situations.
Advantages 
Most casement windows will open fully to the sides allowing good in and outflow of air.

These are designed in such a way to leave no air space when closed. This makes them some of the most energy-efficient windows you will ever come across. 

Because they can open fully in and out to the side, they offer an excellent view of the outdoor. Even when closed, casement windows will still offer a good view whether it consists of only one glass pane or divided.

Casement windows can stand alone or installed as a part of a larger form of windows, for example, bay or bow windows.
Disadvantages
Unlike single or double-hung windows, casement windows don't allow for additional windows installation e.g. window-unit air conditioners, insect screens or storm windows. 

 You will also need to think about weight if you're looking to install a casement window. Bigger casement windows may pose issues since the frame may not support the weight of the sash for long. This makes many homeowners go for the standard size.
4. Bay Windows
Many people wrongly believe that bay windows are just for ornamental purposes and hold no value for ordinary homeowners. They offer a lot of benefits.
The term 'bay window' is a general term and encompasses all windows that protrude out from the wall of a building. 
That they're expensive to install, there's no doubt.
Installing these types of windows cost more as the existing wall structure has to be modified to accommodate the frame for the bay window. This is no work for amateur DIY or inexperienced professionals.
Advantages
A well-planned bay window can drive up the value of your home due to its stylish look.

It provides extra room space.

It is usually a good source of natural light into a room due to its panoramic view. 

Bay windows allow for better views. 
Disadvantages
It cannot be done for cheap. Looking for low-budget options may lead to badly-installed bay windows.
5. Picture Windows
If you're a nature lover and your current windows settings don' allow you enough glimpse of your surroundings then you need a picture window.
Picture windows are non-opening large expanses of glass that allow the occupants of a house an unhindered view of the outdoors.
Picture windows are common in places around natural landscapes. For example, a house situated in hilly areas overlooking rivers or wooded land can be the perfect setting for picture windows. Any homeowner in any setting who loves the outdoor can also install picture windows.
Other than letting you bring in with you a piece of the outdoor, picture windows can also serve as a good source of natural light.
This is a consideration for those rooms in the house with minimal windows to take in natural light.
Pictures windows are typically large but the size may vary. It can be installed in big or small rooms.
Advantages
Large windows usually pose as energy efficiency nightmare for homeowners. But surprisingly, picture windows can save you in energy bills in the long run. Most picture windows are fixed, airtight panes of glass with no demarcation. Even if the picture window consists of 2 or more pieces of glass with divider, it is still a good energy-efficient window.

Whatever the size, picture windows don't come with opening and closing mechanism which tends to keep their prices down compared to other big-size windows installations. Even for the larger ones that may cost more. The initial cost is all you'll be spending in a long time since these windows don't require replacement due to the lack of any moving parts.
Disadvantages
A window that doesn't open or close is not good for ventilation. Although there are picture windows that can be opened and closed, these are rare and would remove some of the advantages that come with a normal picture window.
At Glass Pro Clovis, our picture window installation starts from $200 depending on glass type and whether we're replacing or installing afresh.
Skylight Windows
Letting natural light into the home is something many people love doing. Adequate natural light in a room lightens the mood and helps to cut costs on energy bills. 
Unfortunately, most windows settings are located on the side of the building which in a way limits the amount of sunlight that can come into the house.
One way you can access direct sunlight is to install skylight windows. Skylights are windows installed on the roof of a building to let in natural light.
There are fixed or operable skylights. 
Fixed skylights are like picture windows on the roof. Operable skylights which are sometimes called roof windows that can be opened or close comes with a myriad of problems.
Installing skylights, whether fixed or operable, is a costly venture. You also have to think about maintenance costs. 
Installing by yourself is not usually an option unless you're a seasoned DIYer with a track record installing windows. It should be left to the professional. Improperly installed skylights can be costly. 
Even with experienced professionals, skylights are not to be installed without proper groundwork.
Advantages
A skylight window is a good source of heat and light and can help save up on energy bills during winter.
Disadvantages
Installing skylight windows comes with a lot of potential pitfalls.
Skylights are not easy to clean. You will always almost need a professional window cleaner. If your building is situated near trees, expect winds to bring in all sorts of debris and deposit them on the window. 

The issue of too much light and heat can arise with a skylight on sunny days making the room unusable.

Good skylights don't come cheap. Add to that the cost of regular maintenance unless you will be doing it yourself.

Skylights are not a replacement for regular windows in that you can not exert the same control on skylights as you have over wall windows.
Awnings Windows
Awning windows are windows designed to open outward from the bottom. Most windows have their hinges on the side. Awnings open outward with its hinges on the top side. Awning windows come in different sizes. The smaller sizes are very useful in rooms with limited space, bathroom, and kitchen.
Advantages
They aid good airflow in and out of a room. To get the most out of awnings windows when it comes to ventilation, they can be located close to the ceiling line, especially in high-wall rooms.
Because they formed an awning, they can be opened even when it's raining to allow the inflow of air.

Awnings close tightly leaving no space for air to escape whether it's cold air in the summer or heated air in the winter.
Disadvantages
Awning windows take on some of the disadvantages of other outward opening windows.
They can't be used where opening a window outward can cause issues.

They don't give allowance for additional window installations e.g. air conditioner.
Hopper Windows
Hopper windows are like awning windows. But instead of having a hinge at the top of the window, hopper windows have their hinges on the bottom. Unlike awning windows, they can be opened inward or outward.
A hopper window can be a single sheet of glass, for an unobstructed view, or multiple panes.
Advantages
They are very easy to clean since their two sides are accessible from inside the room.

They allow free flow of air when fully opened.

Airflow through them is greatly reduced when closed so they are good energy-efficient windows.
Disadvantages
Their inverted awning shape does not make them good windows for rainy or windy days. They collect rainwater and wind-blown debris.
Jalousie Windows
These consist of glass slats that are opened with a lever. Jalousie windows used to be very popular and are still very common in warm climates.
Their main function is to let in and control air through the whole window area. Jalousies are unique in that you can control the amount of air you let in or out.
Jalousies with opaque glass, when opened slightly, will allow the flow of air and reduce visibility from outside.
Advantages
When the slats are fully opened, they can give an almost unrestricted view of the outdoor.
Disadvantages
Jalousie windows are at the bottom of the energy-efficient windows list. The slats don't close fully. This is a major problem with early jalousie windows. Even with modern technology and newer versions, the air still finds a way to flow through the slats. 

They're maintenance intensive. The lever mechanism that opens the slats needs to be oiled. Even with oiling it can still become stuck making the window inoperable.
Arched and Round Windows
Good architects know that making your building stands out may not involve changing a significant part of the structure. It may be as simple as just replacing your window types. 2 windows styles that can add a touch of class to a building are the arched and round windows.
Arched Windows
You want your home to look like something from Arabian Nights? Go for Arched windows.
This classic windows style is usually combined with other window types. A common practice is to install them above standard windows e.g. casement windows. Arched windows give a building a sophisticated eastern look. Their main advantages are:
They are highly customizable.

They are energy-efficient.

They offer a lot of options in size, shape, and design.
Round Windows
Round windows are another classic window type that homeowners can use to tune up the aesthetic look of their homes. Round windows are either fixed or operable and can be utilized as the main windows in any room. Fixed round windows are commonly used in religious buildings and other public places to add a kind of gracefulness. Their advantages are:
They offer affordable options to increase the sophisticated look of a building.

They come in a wide range of selections based on frames, materials, sizes, shapes, etc.

They require low maintenance.

They are good energy-efficient windows.
Since most round windows come as a fixed style, other windows will be needed for good ventilation.
Egress Windows
An egress window serves as a means of escape during an emergency. It can be casement, skylight, or double-hung window type.
Egress windows are typically located in a basement. In many localities, building without these violates building codes.
Egress windows require careful planning. Their installation can run into several hundred dollars since they require an egress well and a ladder or steps.