Glass doors are, by reasons, one of the most adopted architectural elements in both renovations and new building constructions.
They are the first-ever innovation to take the functions of doors far beyond both providing security and connecting your interior with the outside world. Glass elements provide natural illumination, they maximize and make ventilation more effective, and offer outdoor viewing from the comfort of your home. Without mentioning the possibilities brought by the combination of technology with glass, it's justifiable that you're going for a glass door.
In today's world, however, there are 6 basic types of glass doors you can choose from. And as there's no one-solution-fits-all, it is important to choose an ideal type for your needs. This will depend on the type and purpose of the considered building, geographical location, and your budget.
To save you the headaches, here at GlassProClovis, we highlight the 6 types of glass doors. The advantages and the downsides of each. And ultimately show you the average installation cost of each type. See below.
The 6 Types Of Glass Doors
French Door

Hinged Single Door

Pivot Door

Bi-fold Door

Stacking Door

Sliding Doors
See the complete highlight of each below.
French Doors
By mode of usage, french doors are double-hinged glass doors that can be opened inward and outward from the center and pushed toward the direction of a wall. Each member of the twin is identified with a frame holding a panel of glass. Though they are commonly used as an opening unto a deck or a courtyard to invite the natural warmth and brightness of Summer. French doors are also relatively an ideal link between close spaces such as between a kitchen and a dining space. Or between the dining space and the living room, as the case may be. When used on the interior, they provide easy access, between the two linked spaces whilst equally allowing the penetration of illumination from one room to the next.
By structure, a French door is identified as transparent or tinted glass panels that are held, each, in a frame. Depending on the design, each of the glass plates could be divided into 2 or more parts to offer more privacy. Other than that, French doors with divided glass panels are less vulnerable to damage, the dividing grails add strength and aesthetics to the design.
Regardless of where it gets installed, the ease of navigation, the functionality, and the installation life of your glass door are all more dependent on the mode of installation. Therefore, it's important to be skeptical—and really be—about who installs your door. If you're a residence of Fresno, you can count on GlassProClovis for a professional French glass doors installation at affordable prices.
See why and why not to go for French doors below.
Benefits Of French Doors
Functions as both interior and exterior divider

Creates a well-ventilated space

Enhances both traditional and modern architectural styles

The best replacement for windows

Minimizes heating bills
Disadvantages Of French Doors
Takes up a lot of navigation space

High cost of installation and repair
Average Cost Of Installation: $528 ($400 installation charge + $75 or $180 labour fee)
Best Places To Use French Doors
Patios

Dinning

Sitting Rooms

Restaurants

Entrance to a big office space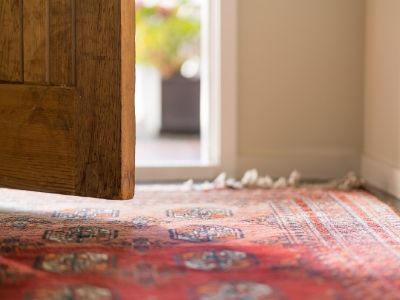 Hinged Single Doors
The hinged single doors are traditionally the most used. Due to their simplicity, they are quite versatile and find application in all building structures. From wardrobes to cupboards through main entrances, hinged single doors provide a minimalistic approach to privacy, security, and easy foot traffic. As the name suggests, a typical hinged single door has its frame held by 2, 3, or more hinges to a side of the entrance. These dynamic hinges enable the other side of the frame to swing either in or out, based on the positioning of the support hinges. Again, just like every other glass door, the integrated glass panel of single-hinge doors can be divided into parts for durability and beauty.
Other than the typical inward or outward movement, some single-hinges swing inward and outward at the same time. These types are mostly used for commercial structures to provide easy entry and easy exit for navigators, though more space is required.
Looking for the best installation for your single-hinge? Request for a free quote today. Here at GlassProClovis, we minimize your space with a calculation-backed installation done by experts that are equipped with state-of-the-art tools.
See why and why not to go for a single-hinge door below.
Benefits of Single Hinged Doors
Best for space management

Can be integrated with fly doors

Ideal for narrower openings

Frameless options

Varied sizes and designs

Better locking system

Long-lasting

A simplistic approach to security and beauty
Disadvantages Of Single-hinge Doors
Doesn't offer as much illumination

Not ideal for commercial buildings
Average Cost Of Installation Of Single Hinge Door: $475 to $500
Best Places To Use Hinge Single Doors
Linking to a sunroom or a deck

Bedroom entrance

Wardrobes
Pivot Doors
Unlike the conventional swing doors, pivot doors are a more contemporary design of doors that are most ideal for offices, the exterior and interior of large business spaces, and uncommonly in residential buildings as entrance doors.
Pivot doors are, as the name suggests, pivoted both at the top and at the bottom of the entrance. This dual-pivot allows for up to 360° rotation, positioning pivot doors among the most dynamic for busy foot traffic. Other than being a heavy-duty and highly functional design, a pivot door has an elegant profile that collaborates with home decor, when used in residential homes, and aligns with your home architecture.
And because they are free-moving, pivot doors tend to last longer with no overburdened hinge acting as a support. They allow the inward and outward movements of bulky items by offering more entrance space.
Benefits Of Pivot Doors
Highly-dynamic and free-moving

Lasts longer than swing doors

Offers more entrance space

Dual-purpose; serves as both an exit and an entrance

Blends with home decor

Provides a bright, perfectly ventilated space

Smooth navigation
Disadvantages
They are more expensive

High installation cost

Requires a lot of entrance space

May be dangerous for small children and pets
Average Cost Of Installation Of Pivot Doors; $2000
Best Places To Install A Pivot Door
Residential front door

Separation of office space

Spas, workout rooms, bathrooms
Bi-Fold Doors
Defining them by structure, bi-fold doors are foldable on two opposite sides. The structure is completed by two separate framed glass panels fixed to the two opposite sides of an entrance. The concept is to incorporate the outdoor living to the indoor whilst still prioritizing security. The former motive of outdoor-indoor incorporation is achieved with phenomenally strong, transparent glass panels. These are specially treated glasses developed for strength and concentration of light. On the other hand, the selection of a high frame-to-glass panel ratio makes bi-fold doors even stronger and durable as more frames are selected over the glass panels.
A bi-fold may be installed to be the complete wall-side of a house as a non-load bearing wall. Conversely, bi-folds also serve as interior space separators between closely related rooms. 
By practicality, bi-folds are more practical than the likes of swing doors and sliding doors. Bi-folds are by far ideal for everyday use especially in buildings, whether residential or commercial, where wheelchair users navigate constantly. This is because unlike sliding doors, bi-folds have a level threshold on their flush tracks that allows for the easy passage of tires. Unfortunately, more space is required for unrestricted usage of bi-folds compared to a sliding door.
Before choosing a bi-fold for your project, check the debate of the pros and cons below.
Benefits Of Bifold Doors
Considered the most durable glass door

Aesthetically pleasing

Low maintenance needed

Enhanced door security and flexibility

Maximizes natural light

Compact and energy-efficient

Takes you more steps closer to the outside world

Easy navigation for people on wheelchairs
Disadvantages of Bi-fold Doors
Takes up a lot of space

Obstructed view due to a high frame-to-glass ratio

May make your home susceptible to rain due to low threshold
Average Cost Range Of Installation Of Bi-fold Doors: $125 to $250
Best Place To Install
Bi-fold

Doors
Hospital entrance

Wardrobes, closets, and laundry separation

Multi-season porch

Room dividers

External uses
Sliding Doors
Sliding doors are another entrance element that focuses more on achieving the outdoor-indoor corporation goal other than providing security. The design idea revolves around fixing a large size frame panel on a horizontal track with an additional horizontal track above it serving as a support. The large framed glass, as the name suggests, is slide between the upper and the lower track when navigated. Though this design offers less privacy compared to other glass door styles, many users opt for tinted glass panels or patterned glass types to regain the lost privacy that they desire.
While the application of sliding doors as an exterior door is less common in residential buildings, you'll mostly find them in restaurants, spas, and showrooms. Otherwise, the interior spaces of some modern residential buildings are often than not linked with sliding doors. Hallways, showers, backyards, these are some of the areas that sliding doors are chiefly installed in homes.
To consider a sliding door or not to, see below for the pros and cons and every other thing you need to know before installing sliding doors for your project.
Benefits Of Sliding Doors
A minimalistic approach to space management

Offers maximum, unobstructed view

Raises the beauty quotient of your home

Allows for better passage

Considerably easy to open and close for kids

Energy efficient

A great way to reduce the heat bills

Ideal for a brighter home
Disadvantages of Sliding doors
The lower track easily gets clogged

Not recommended for a tight budget

Poor maintenance may encourage the growth of mold

Sliding doors may cause heat in summer and freeze up in winter
Average Cost Range Of Installing A Sliding Door; $1000 to $4000
Best Place To Install Sliding Doors
Hallways

Backyards

Showers and wardrobes

Front porch

Patio
Stacker Doors
Stacker doors are another great option to increase the value of your home as an estate manager and put a home that is up for sale on display with no cost added. They are similar to sliding doors in the sense that a stacker door runs back and forth through tracks for the purpose of easy opening. The difference is that, while sliding doors run on a single track, two or more panels are integrated on their stacker counterpart. As the name suggests, the framed glass panels are stacked one behind the other in the case of stacker doors. Depending on the width of your entrance, two or one of these panels are static, and tinted by preference, to offer my privacy. The other panels are free moving whilst integrating a more locking system for the sake of security.
Stacker doors come in various sizes and designs, and thus, are more dynamic in terms of where you can install them. They share the same space management benefit with their sliding counterpart but though are a more complicated design to brighten up the interior of your home naturally. With respect to your preference, stacker doors can be framed in aluminum or wood material and equally be in multiple stacks as much as you want them.
Benefits Of Stacker Doors
Highly dynamic and fits into any space

Brightens up your space and makes it feel cozy

Allows more heat control

Offers visibility adjustment

Comes in various sizes, frame materials, and patterns

Recommended for both residential and commercial buildings
Disadvantages of Stacker Doors
The panels are vulnerable to getting dislodged

Using the wrong glass type increase heat and cold as the case may be

High installation cost

Not really safe for kids

The frame channels need adequate maintenance
Average Cost Of Installing Stacker Doors: $250 to $500
Best Place To Use Stacker Door
Residential building exterior as a non-load bearing wall

Front porch and patio

Showroom and stores

Office space divider
Conclusion
After guiding your decision by the important factors highlighted so far  and choosing the right glass door for your projects, at the bottom line, it is more important that your installation is done by an expert. Here at GlassProClovis we offer the best glass door and glass window installation at affordable prices. We are the leading installation company in California, having won the hearts of hundreds of happy customers for the past 30 years of service. Get a free quote right on the spot by clicking on the call button.